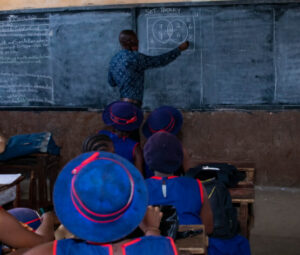 Throughout this site, teachers of basic and secondary education will find resources that enable them to learn more about quality teaching practices, how to improve their pupils' learning and ways to continue their own professional development. There is also guidance on ways to create safe and inclusive classroom environments, including policies to follow at school and in the classroom.
About the Education Knowledge Platform
This platform is for everyone with an interest in Sierra Leone's basic and secondary education system – whether you're working in a school, district management or national government. Learners and the wider community who are seeking information and resources are also welcome. You will find a vast range of materials – policies, guides, templates, research – to support your work and development. The platform is fully searchable, allowing you to find exactly what you need. Search and filter by topic, school level or your role in the education system.